Send Inquiry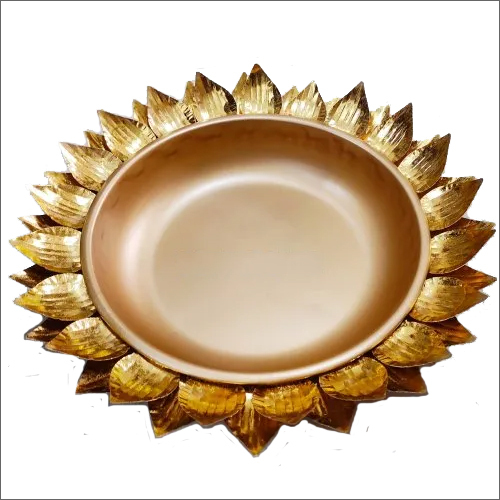 Product Specifications
Indian

Metal

Polishing

Brass

Durable

Modern Arts
Trade Information
Cash Advance (CA)

5000 Piece Per Month

10 Days

All India
Product Description
An ornamental Pooja brass A brass Urli, often called a Pooja Uruli or just an Urli, is a customary decorative vessel used in India. It frequently appears in religious rites, especially Hindu and Pooja (worship) rituals.
The Urli is a flat-bottomed, shallow bowl-shaped jug with a large mouth. It is typically made of brass, which is admired for its brightness, durability, and historical significance in Indian culture. Brass Urulis are available in a range of sizes, from tiny ones that may be set on tabletops to bigger ones that can be utilized as central ornamental elements.
As part of religious rites and rituals, urulis are frequently used to contain water and flowers. The Urli is decorated with fresh flowers that frequently float to the surface and is filled with water during Pooja or celebratory events. The flowers and water stand for dedication, adoration, and purity. An auspicious and peaceful ambiance is produced by the Urli, which acts as a decorative centerpiece.
Decorative brass Urulis are utilized for interior adornment in addition to religious ceremonies. They can be positioned there to bring a touch of classic elegance and charm to homes, temples, or even gardens. To make an eye-catching arrangement, urulis can be presented with or without water and filled with floating candles, flower petals, or ornamental objects.
To maintain its shine, the brass material of the Urli needs to be properly cleaned and maintained. To prevent tarnishing, it should be cleaned on a regular basis with the proper brass cleaning supplies. It is crucial to remember that brass Urulis are primarily designed for aesthetic purposes and should not be used for cooking or keeping food.
Overall, a decorative Pooja brass Urli is a lovely and significant part of Indian history and culture. It is prized for use in religious rites and as a decorative element in homes and temples because it represents devotion, beauty, and purity.
FAQ
1. What is a brass urli for pooja that is decorative?
Ans - In India, a decorative pooja brass urli is a piece of house decor that is used to store water and offer it to gods during religious rituals. It is composed of brass and frequently has complex engravings.
2. How is it used?
Ans - During pooja rituals, the brass urli is generally used to contain water. The water is then presented as a mark of respect and devotion to the gods or goddesses.
3. Is it a conventional product?
Ans - Yes, brass urlis used for puja decorations have been utilized for ages in India. They are still widely used now and are present in plenty of religious homes.
4. How much are they?
Ans - The cost of ornamental brass puja urlis varies according to their size and style. They are typically relatively inexpensive.
Enter Buying Requirement Details