Send Inquiry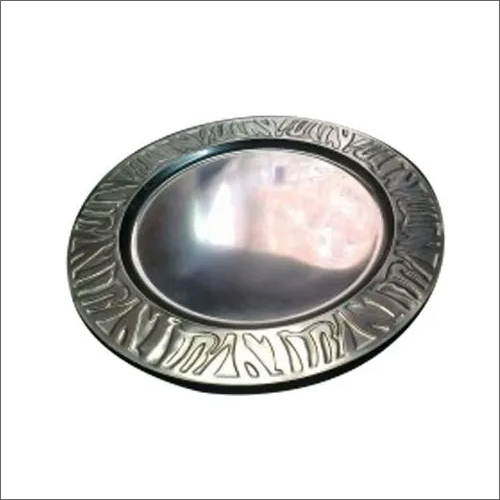 Product Specifications
Polished

Stainless Steel

Metal

Customized

Commercial
Trade Information
Cash Advance (CA)

5000 Piece Per Month

10 Days

All India
Product Description
A attractive and practical item used in table settings is a stainless steel charger plate, also known as a stainless steel charger or service plate. During formal or important occasions, a sizable, round plate or platter is frequently placed beneath the main dinner plate.
High-quality stainless steel, noted for its durability, resistance to rust, and ease of maintenance, is used to make stainless steel charger plates. They feature a polished, reflecting surface that gives the table setting an air of sophistication and elegance. The charger plate's rim is frequently adorned with patterns or artistic accents to improve its aesthetic appeal.
A charger plate's primary function is to act as a decorative base for the main dinner plate. It provides a neat and consistent background for the food presentation while assisting in creating a layered and classy effect for the table arrangement. Before the main course is served, charger plates are normally taken away, leaving the actual dinner plate.
Stainless steel charger plates have uses that go beyond their ornamental function. They facilitate easier cleanup by helping to shield the tablecloth or placemat from spills or food particles. Charger plates made of stainless steel are heavy and sturdy, which adds to their stability and guarantees that they stay in position during the meal.
When hosting formal gatherings like weddings, banquets, or luxury dinner parties, stainless steel charger plates are frequently used. They can be used with varied tableware and go well with both classic and modern eating settings. Since it blends in well with many color schemes and table settings, stainless steel is a popular option for charger plates.
Overall, stainless steel charger plates provide table settings a touch of refinement and beauty. They are a popular option for special occasions and formal eating settings because of its polished surface, robustness, and decorative elements.
FAQ
1. What is a charger plate made of stainless steel?
Ans - A round plate made of stainless steel is called a charger plate and is frequently used as a beautiful base for food on a dinner table.
2. What advantages can stainless steel charger plates offer?
Ans - Stainless steel charger plates have a long lifespan, are highly sturdy, and are simple to maintain. Additionally, they are wipe-clean in a matter of seconds and are resistant to corrosion and rust.
3. How should stainless steel charger plates be stored?
Ans - The appropriate place to store stainless steel charger plates is a dry, dust-free environment, is the response. Additionally, it is advised to keep them away from heat sources and bright sunshine.
4. How can I clean charger plates made of stainless steel?
Ans - A moist towel and some light soap will quickly and easily clean stainless steel charger plates. It is crucial to refrain from employing harsh chemicals or abrasive products.
5. Can you wash stainless steel charger plates in the dishwasher?
Ans - Dishwashers are safe to use with stainless steel charging plates. But it is crucial to remember to put them in the top rack of the dishwasher and use the gentle cycle to clean them.
Enter Buying Requirement Details