Send Inquiry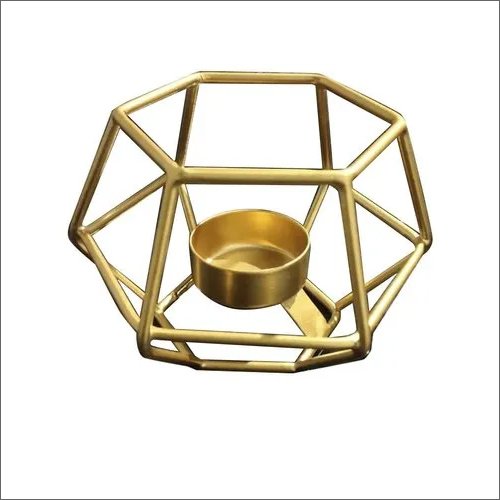 Product Specifications
Handmade

Polishing

Modern Arts

Yes

Indian

Home Decoration

Metal
Trade Information
Cash Advance (CA)

5000 Piece Per Month

10 Days

All India
Product Description
A decorative device created especially to hold T-light candles is known as a T-light candle holder. T-light candles, commonly referred to as tea light candles, are tiny, lightweight candles that frequently arrive in a metal or plastic cup.
T-light candle holders come in a wide range of materials, styles, and dimensions to accommodate various aesthetic tastes. Following are a few popular designs of T-light candle holders:
Due to their exquisite and translucent appearance, glass T-light candle holders are popular. They can be basic or embellished with different designs, hues, or textures, which enables the candlelight to produce lovely reflections.
T-light candle holders made of ceramic are renowned for their toughness and adaptability. They come in a variety of sizes, shapes, and paint jobs, such as hand-painted or glazed patterns, which give any room a decorative touch.
Metal holders: Iron, brass, or aluminum are frequently used to make metal T-light candle holders. When the candle is lit, they can have elaborate cut-out motifs, filigree work, or sculptural components that produce distinctive patterns of light.
Wood holders: Natural and rustic beauty is added to the decor by wooden T-light candle holders. They can be constructed from recycled wood, carved, or engraved to lend warmth and an earthy quality to the setting.
Stone holders: T-light candle holders with a modern and sleek appearance are constructed of stone, such as marble or granite. They can have a polished or rough surface, which offers a fascinating contrast to the delicate candlelight that flickers.
DIY holders: As a fun craft project, many people like to make their own T-light candle holders. Mason jars, wine glasses, seashells, and even discarded items can be used to make one-of-a-kind and customized candle holders.
Candlestick holders for T-lights have several uses. They can be used as table centerpieces, arranged on shelves or mantels to provide coziness, or utilized outside to light up patios and gardens. To prevent any fire threats, always check that the T-light candle holder is secure, heat-resistant, and offers adequate ventilation.
It is crucial to observe safety precautions when using T-light candles and holders, like never leaving them unattended, keeping them away from combustible materials, and setting them on a heat-resistant surface.
FAQ
1. What components make up the T Light Candle Holder?
Ans - The T Light Candle Holder is composed of a mix of metal and glass.
2. How is the candle held in place by the T Light Candle Holder?
Ans - The metal clip that holds the candle in place on the T Light Candle Holder.
3. How big of a candle can the T Light Candle Holder accommodate?
Ans - The T Light Candle Holder can hold taper candles with a diameter of up to 2 inches.
4. Can the T-Light Candle Holder withstand heat?
Ans - Yes, heat-resistant materials are used to make the T Light Candle Holder.
5. Can you use the T Light Candle Holder in the rain?
Ans - No, the T Light Candle Holder is not waterproof and should not be exposed to water.
Enter Buying Requirement Details